*Dates for the next edition will be announced in the autumn*
The Perfidious Albion is designed for those who love a challenge and want to find their limits. But it's also for those who relish the prospect of immersing themselves in the surroundings of this tiny island, focusing on nothing simpler than forwarding progress past a flickering sequence of green and pleasant views.
The route is a celebration of great British cycling vistas, ranging from the iconic climbs of the Lake District and the North Pennines to the lesser-known landscapes of the Scottish Borders and Wales's Cambrian Mountains. Every new region brings fresh challenges, but two constants remain throughout – beautiful views and savage gradients.
Entry fee: £170 per rider
Start: Saturday 15th July 2023
---
About The Perfidious Albion
Registration and briefing will be the afternoon of 14th July 2023
Starts at 09:00 on 15th July 2023 at Somerton House Hotel in Lockerbie, Scotland
The route is approximately 1,600 kilometres with 23,000 metres of climbing
Self-supported, single-stage event
98% on-road, with some very short gravel sectors (always short enough to be walkable)
There will be a series of unmanned selfie checkpoints along the route
Live tracking will be provided by Follow My Challenge using GPS trackers
The finish will close on Sunday 23rd July, nine days after the start
Why Take on The Perfidious Albion?
Despite assertions to the contrary, this route was not designed solely to make riders suffer! It aims to link some of the mainland UK's most scenic riding, which unsurprisingly also means a lot of tough miles. But if you can get over the savagery of elevation profile, the route itself delivers some fantastic riding, beautiful views and wonderfully quiet roads.
Curious to know what it's like to take on The Perfidious Albion route? You can read all about Donald Munro's 2022 experience here.
---
Overview of the Route
Scottish Borders and Kielder
The Perfidious Albion begins in the Scottish Borders with the aim of making it more accessible, whilst still including some beautiful – and often overlooked – landscapes.
Head north for a loop around a series of dramatic reservoirs, before swinging back south and into England towards Kielder. You get your first taste of gravel south of the reservoir, as you cross into the North Pennines.
North Pennines and Lake District
Climb up into this barren landscape – which regularly crosses 500 metres in elevation – before hurtling back down, only to do it all again with the biggest climb of the ride. Ascend the dead-end climb of Great Dun Fell for some cycling bragging rights. And take some comfort that we haven't included the gnarly single track on the other side, with the route bringing you back down on the tarmac instead.
Then head west and into the Lake District for a gruelling counterclockwise loop that takes in the passes of Honister, Whinlatter, Newlands and Hardknott. The last of these is one of the UK's most infamous climbs and the 30% ramps will test your gearing choices.
North and South Wales
After a brief foray into the Forest of Bowland, some easier cycling takes you down towards the Welsh border. The Welsh part of the route has been updated for 2023, adding in some different climbs, including a beautiful ascent to the Creggenan Lakes after Dolgellau. Of course, the Elan Valley and the incredibly remote area surrounding Llyn Brianne remain unchanged.
As you enter southern Wales, you hit the Brecon Beacons, where a couple more gravel sectors await. Tackle Llangynidr Mountain, Rhigos and The Bwlch – all iconic climbs – before climbing over Gospel Pass, one of the most beautiful climbs in the area.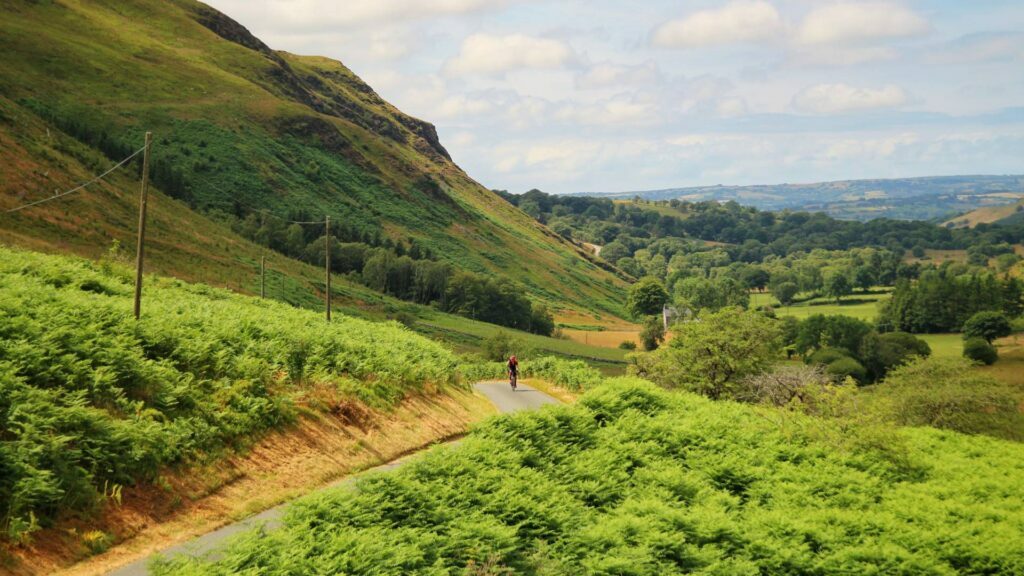 North and South Cotswolds
From the flatlands of the Severn Valley, climb up into the Cotswold Escarpment. Head into the golden limestone villages of the north Cotswolds, before you swing south and through the idyllic Coln Valley.
Finally, some flatter cycling greets you as you leave the Cotswold Hills. Finish at Wild Carrot Wheels in the Cotswold Water Park.
---
What is Included?
Entry into the event
GPX route file
Live GPS tracking (including tracker) throughout via Follow My Challenge
Registration and briefing at the start at Somerton House Hotel, Lockerbie
Cycling cap
Finisher's t-shirt
Finishing checkpoint at Wild Carrot Wheels
Carbon offsetting against any emissions associated with running the event
£95 off any purchase of a Zolla wheelset
Copies of all race photos for personal use
---
What does unsupported mean?

It means that you can make use of any publicly-available commercial facilities during your ride e.g. shops, hotels etc. Or you can use items that you brought with you from the start. You cannot rely on any help that would not be available to all riders e.g. staying with friends, assistance from other riders or supply stashes.
How many entries are available?

We want to keep this event fairly small and low-key, so we will be capping the number of riders at 25.
Where is the nearest train station to the start?

Lockerbie has a train station, with several trains a day from London Euston.
What gearing do you recommend?

The more gears the better! Gravel gearing would be ideal, although it is largely a road route. Having said that, it is perfectly possible to finish with road gearing, as Donald proved in 2022. However, you have to accept that you will end up walking at some point, especially as your legs tire.
Can I use my own tracker?

No, for simplicity's sake (and to avoid using disposable batteries) we will only be using Follow My Challenge's Queclink trackers.
Can you transport a bag from the start to the finish?

Sorry, no, we will not have a vehicle at the start, so this isn't possible. Instead, the Somerton House Hotel are quite happy for you to leave packages to be collected by couriers. And if you would like to send them to the finish then Wild Carrot will look after them.
Can I book accommodation en route in advance?

Yes, you can! We know that some events restrict this, but we don't. Given how expensive accommodation is in the UK, especially in places like the Lake District, we feel this rule would only benefit wealthier riders.
---
Sign Up Now
Entries are now closed!