*Dates for the next edition will be announced in the autumn*
To describe this as a gravel event is probably a bit misleading. Yes, it does have some sumptuous gravel in it. But it is better thought of as a very beautiful (but somewhat tortuous) obstacle course to be tackled by bike. With everything from hike-a-bike and single track to smooth forestry tracks and sweeping asphalt, this ride is for people looking to take drop bar bikes where they don't belong.
The route is around 70% tarmac (in distance not time), so this is gravel bike territory. The aim when designing the route has been to include a mix of everything but keep the really tough stuff short and sharp, using hike-a-bike and singletrack to link less technical road and gravel sections. That being said, this will not be a fast ride, not least because of the sheer amount of climbing. But if you're looking for an adventure that takes in all the best of the Welsh mountains then look no further.
Entry fee: £150 per rider*
Start: 1st September 2023
*For 2023, we're introducing a mandatory kit/spares donation for each rider that can be as large or as small as you like. This will go to the bike project at Swindon Welcomes Ukraine, which is refurbishing bikes for refugees (more details to follow)
---
About Mountains of the Merfynion
Registration and briefing will be in the afternoon/evening of Thursday August 31st 2023 at Wild Carrot Wheels in the Cotswold Water Park
Starts at 09:00 on Friday 1st September at nearby Performance Cycles
The route is just over 900 kilometres with 16,000 metres of climbing
This is a single-stage unsupported ultra-endurance event
There will be a series of unmanned selfie checkpoints along the route
The finishing cut-off is 20:00 on Wednesday 6th September
Live tracking will be provided by Follow My Challenge using GPS trackers
This event will require additional minimum kit for safety: a bivvy bag and either a sleeping bag or a hooded down jacket must be carried at all times
Why Take on Mountains of the Merfynion?
Anyone who has ridden in Wales will know just how good the cycling is. But this good cycling continues long after the roads end, as the Mountains of the Merfynion route aims to demonstrate.
We've aimed to put this route in that sweet spot where riding it on a mountain bike would be far too tame, but you're going to be pushing your limits on a gravel bike in places.
Add to this some beautifully quiet tarmacked riding, with tough climbs and sweeping descents, and you have an extremely varied route. And that's before we even mention the sneaky sections of hike-a-bike that have made their way in there…
---
Overview of the Route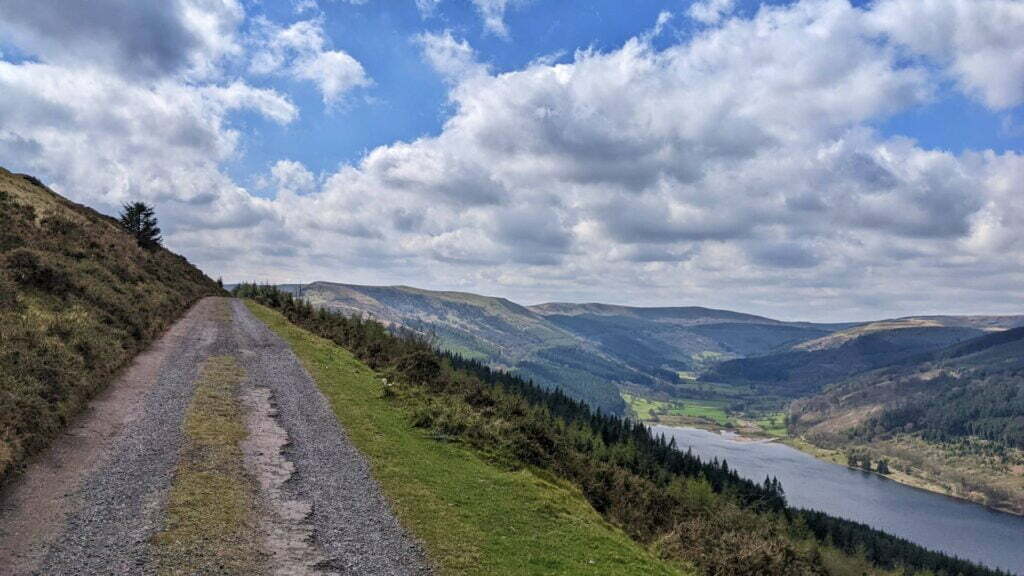 Into Wales
The route sets out from Performance Cycles, in the Cotswold Water Park. A little bit of Cotswold gravel wakes the legs, but you're soon crossing the Severn Bridge and heading towards Wales.
But first, the route detours through the Wye Valley, taking the cycle path through the unusual Tidenham Tunnel, which is unlit to protect the bats that roost here. From here, a succession of rail trails and small roads slowly take you into Wales and towards the start of bigger climbs.
Brecon Beacons
The fun really begins in the Brecon Beacons, where the hills come thick and fast. The gravel is mostly good, but there are some rockier sections that will slow you down.
Highlights here include the ridge-top track above Talybont, a stretch of winding single-track with panoramic views above Rhigos and the beautiful Devil's Elbow climb, which we have "improved" by taking you onto gravel towards the top.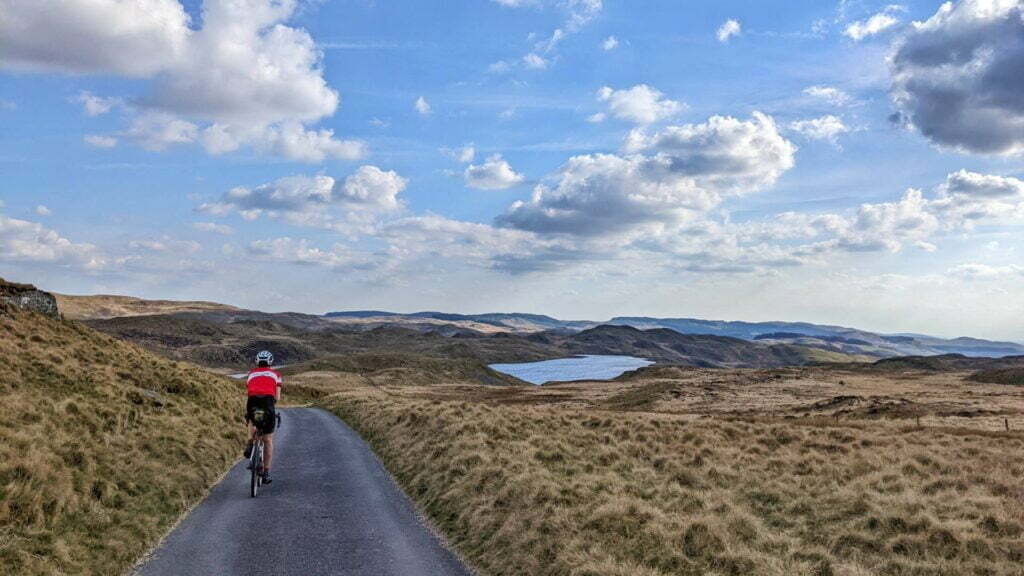 The Western Cambrians and the Welsh Desert
After Llandovery, you head into the Cambrians – the wildest, remotest part of the route. Here, you follow a series of reservoirs, largely sticking to fast forestry gravel, interspersed with beautiful Welsh country roads. This is central Wales at its absolute best.
A few rockier sections and a handful of fords will keep you on your toes for this section, as well as the constant up-and-down nature of the terrain and the lack of resupply.
Southern Snowdonia
As you approach Snowdonia, you reach the edge of the Cambrians and enter a wild, forgotten valley where the bridleway is barely visible. This is likely to be a long, slow stretch of hike-a-bike for most riders.
The riding in Snowdonia sticks mainly to peaceful country roads, with a few stretches of forestry gravel to link things up. But any respite is limited, as you tackle a succession of tough passes.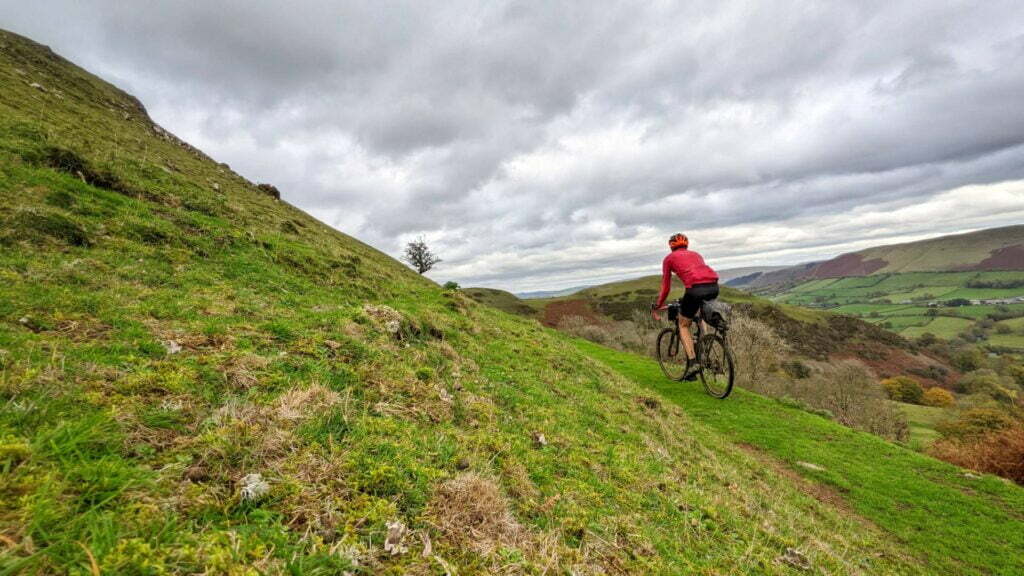 Back Across the Eastern Cambrians
After Lake Vrynwy, the route swings south and you begin your return journey, crossing back into the Cambrians. The landscape on this side of the hills is more agricultural and less obviously wild, but the riding is just as tough.
You climb up into a succession of quiet valleys, before inevitably heading onto gravel and traversing an exposed hilltop. The surfaces are varied and slower going, with some hike-a-bike in places. But it is also beautiful riding, often including tracks that even locals have forgotten about.
The Black Mountains
Just as the landscape begins to flatten and the English border beckons, the biggest challenge of the entire route rears up ahead of you – Hay Bluff. You begin the ascent on tarmac, before joining a grassy bridleway that takes you up to within 50 metres of the peak.
At the top, the bridleway disappears into a maze sheep tracks. But you are spoilt by endless views of the landscape 600 metres below you (if it isn't cloudy). The descent is mostly rideable, as you fly down into England.
The Malverns and the Cotswold Hills
Some real respite appears after Hay Bluff, with the flatter, tarmacked riding allowing your legs to recover a little. On your way back to the Cotswolds, you divert via the Malvern Hills, where a short dead-end climb leads you to a panoramic viewpoint.
From there, it's not long until you are climbing up onto the Cotswold Escarpment. A mix of peaceful bridleways and quiet country lanes lead you back to Wild Carrot Wheels, where you can finally step off the bike.
---
What is Included?
Entry into the event
GPX route file
Live GPS tracking (including tracker) throughout via Follow My Challenge
Cycling cap
Finisher's t-shirt
Start and finishing checkpoints at Performance Cycles and Wild Carrot Wheels
Carbon offsetting against any emissions associated with running the event
£95 off any purchase of a Zolla wheelset
Copies of all race photos for personal use
---
Route Map
---
FAQs
What does unsupported mean?

It means that you can make use of any publicly-available commercial facilities during your ride e.g. shops, hotels etc. Or you can use items that you brought with you from the start. You cannot rely on any help that would not be available to all riders e.g. staying with friends, assistance from other riders or supply stashes.
What tyres do you recommend?

Most of the recce rides were ridden using 38mm gravel tyres, with 35mm on the rear of one of the bikes. 40-45mm would give you a touch more comfort without sacrificing speed, so that's probably the sweet spot. If you head into MTB tyre territory then you will find it slow going on the road sections (but very comfy elsewhere). Conversely, if you go below 35mm or opt for very slick treads, then you will struggle on a lot of the single track.
Why have you included an additional minimum kit requirement?

The route is remote and exposed in places, and accommodation options are very limited. Whilst you are never that far from civilisation as the crow flies, you will be riding a bike not a crow. Therefore, in case the weather changes for the worse or you have a serious mechanical, we think it's important you have enough kit to survive. Please bear in mind that this is an absolute minimum and not a kit list. We do not think the optimum strategy for this route is to ride with as little kit as possible.
How many entries are available?

As this is the first year, we will be limiting entries to just 30 places.
Can I leave a bag at the start?

Yes, Wild Carrot are happy to store riders' bags. We will give you a label to put on your bag at registration.
Can I camp at the start?

Hopefully! We're talking to Wild Carrot about setting up some tents as an affordable accommodation option. More details will follow regarding this.
Where is the nearest train station?

Stroud or Kemble are the closest. The latter is slightly farther but the ride over is much flatter.
Can I use my own tracker?

No, for simplicity's sake (and to avoid using disposable batteries) we will only be using Follow My Challenge's Queclink trackers.
---
Sign Up Now – Closed!
Entries are now closed but you can sign up to our making list below.